Order Criminal Record Checks on Applicants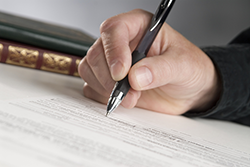 Sometimes, a credit report isn't enough when processing a rental application. TenChek members can request criminal record checks, and track the status of these requests online. TenChek can also provide credit reports from Equifax and TransUnion.
Criminal record checks are also a very useful tool for pre-employment screening of new staff. Hire confidently, knowing that you have knowledge of your new employees' backgrounds!
Join TenChek today and start getting the full picture!