Continuing to help after your tenants have been chosen!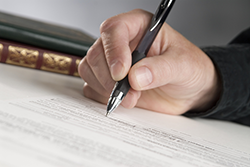 Your time with TenChek doesn't have to end once the lease is signed.
Ten

Chek

can arrange to have your tenants' security deposits/first-and-last months' rent securely transmitted into your bank account.
Give your tenants (and yourselves) peace of mind by having them sign up for insurance through our partnership with ZipSure. We keep track of insurance policies for Ten

Chek

, and we will notify you if there is a change or a cancellation in these policies.
Join today for free, and put TenChek to work for you!